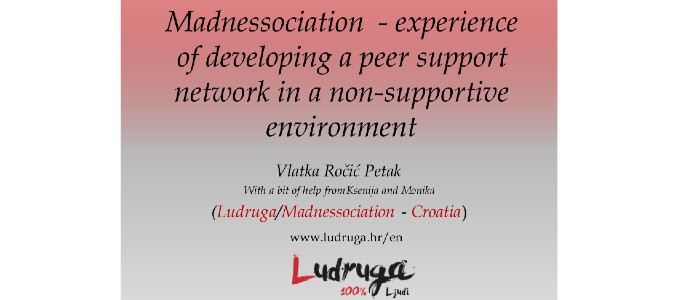 Veliko priznanje našoj predsjednici i udruzi za pronicljivu i inspirativnu prezentaciju i napore u zagovaranju
Nakon održanog međunarodnog webinara na temu: PEER EXPERTISE. PERSPECTIVES FROM EUROPE AND AFRICA dobili smo poticajno pismo zahvale i podrške od predsjednika European Community Mental Health Services networka - EUCOMS, g. René Keet-a koje ponosno donosimo ovdje u cijelosti:
EUCOMS Network
09:40 (5 hours ago)
to Vlatka, Udruga
Dear Vlatka,
I am writing on behalf of the EUCOMS Network to express our heartfelt appreciation for your enlightening presentation during our recent webinar on Peer Expertise. Your experience in developing a peer support network in a non-supportive environment, as President of Madnessociation, Croatia, was truly inspiring and left a profound impact on our audience.
Your expertise as an expert by experience, professor of Sociology, and project manager at Madnessociation added immense value to the discussion. Your presentation encompassed a wide range of initiatives, including the establishment of peer support groups, mobile peer teams for psychosocial support in the community, and the development of a peer support network across the country. The comprehensive approach you shared highlighted the importance of non-institutional peer-to-peer support systems.
Your dedication to facilitating the peer support group "Experts by Experience," conducting workshops and trainings for peer support group facilitators, and providing consultations for facilitators truly exemplifies your commitment to empowering individuals and fostering a supportive environment.
Moreover, we applaud your tireless advocacy efforts in Croatia. Your continuous actions to influence public policy makers and ensure the inclusion of the concept of peer support and peer work in the Strategic Framework for the Development of Mental Health until 2030 are commendable. We are delighted to learn that your efforts have resulted in the adoption of the Strategic Framework by the Croatian Government, marking a significant milestone in the advancement of mental health support in your country.
Your accomplishments in developing a peer support network across Croatia, including the establishment of peer support groups and mobile peer teams, demonstrate the transformative power of your work. By providing continuous consultations for peer specialists and workers, you are nurturing a network that thrives on collaboration and shared learning.
We recognize that your journey has only just begun, and we wholeheartedly support your call to multiply efforts in order to initiate necessary changes within the system. Your unwavering dedication and determination are an inspiration to all of us in the mental health community.
Once again, we extend our deepest gratitude for your invaluable contribution to our webinar and the EUCOMS Network. Your expertise, advocacy, and commitment have enriched our collaborative efforts. We eagerly look forward to future collaborations and the opportunity to work together towards creating a more inclusive and supportive mental health landscape.
With utmost appreciation,
René Keet & Ovidiu Oniciuc