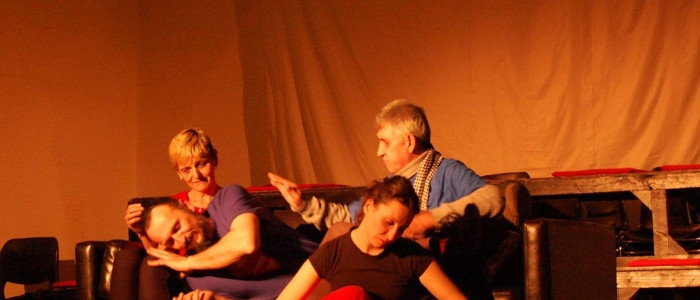 Exit – Theater Workshop (Blue Talk Project)
Ludruga Association in collaboration with the Art Organization ERGstatus from Belgrade and the Center for Culture Tresnjevka organized a program called "Exit", as a part of a regional project "Blue Talk", which included the members of the Association of Fenix from Tuzla and the Association Duša from Belgrade.
Workshop "Exit" was based on the experiences of drama theater. Man is a social being, and then when one feels one does not belong to the majority of society needs to find like-minded people and team up with them to protect their rights. But the question is whether it is or it is not always consciously; - When we do become members of a group; - Are we always aware of what the group expects of us and do we want to accept these rules? The problem arises when others begin to classify us in a particular group and when they determine the rules. So where is the way out, an Exit? These and similar questions helped us to share our experiences with the others in the group, to explore them and to present them in a contemporary dramatic form to the audience!
The workshop had been held in Zagreb, for 4 days on average 4 hours a day. The final presentation in the form of theatrical performances was held on 27.04.2015. in the odeum of the Cultural Centre Trešnjevka at 19.00 hours, and was followed by an open discussion with the audience.