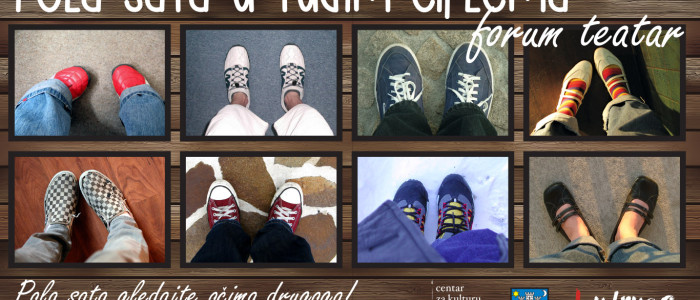 "Half an hour in somebody else's shoes"
You feel the fear of the approaching to the psychiatric hospital?
You fear from a physical assault from a mentally ill person?
You think that mentally ill persons are:
- unpredictable
- potentially dangerous
- strange (tick, scratch, perform strange movements)
- aggressive
You look at mentally ill people with:
- fear
- disgust
- horror
- pity
- uneasiness
You wonder:
- What is a thread on which all your normality hangs?
- What went wrong in the head of mentally ill persons, what if such a thing happens to me?
You feel:
- Fear of your own deep fears
- Guilt because it is so hard for them and because they are stigmatized by you
- Discomfort, shame and desire to flee in fear of your own potential insanity
If you have answered yes on more than half of the claims or if you yourself belong to the stigmatized group of persons who are diagnosed by mental illness, then you are a candidate for participation in the forum theatre ''Half an hour in somebody else's shoes". By taking the role in a scene, or walk in somebody else's shoes for only half an hour, explore your prejudices and confront  hem, learn new techniques of self-expression, communication and acting techniques of forum theater under professional leadership of Alen Oreskovic and Hrvoje Handl.
What is a forum-theater?
Forum theater is a kind of theatre of the oppressedwhich aims at finding a variety of solutions for certain social problems. In short forum-scenes participate both actors and viewers. viewers are called to replace the protagonists to find solutions or alternations to oppressed figure on the scene. It is not about a finding of a "right" or "perfect" solution, but the purpose is to explore as many options as possible. Once people try to "play" with a variety of solutions through this theatrical technique, it is possible that this will be an incentive for an action in real life when they would be facing the same or similar problem that they had in the theater forum-scene.