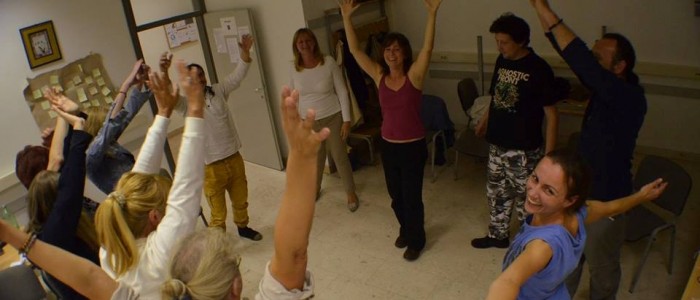 Workshops on Nonviolent Communication
On the World Mental Health Day on Sunday 11.10.2015. we have done a presentation of workshops on nonviolent communication through art and movement, in the form of a theater performance and a round table on the theme: "The importance of developing communication skills to achieve and maintain mental health" in the odeum of the Cultural Centre Trešnjevka.
The aforementioned workshop was held by Dina Ivan for the members of the association Ludruga in cooperation, and was conceived as experiential and inclusive workshop where they were using a variety of artistic tools and techniques in order to learn to raise awareness and expression of their emotions, and to acquire the skills of nonviolent communication.
The workshop participants were undergoing a personal conflict, learning methods of nonviolent communication in the verbal level, transforming the four steps of nonviolence (description, feelings, needs, the proposed solutions) into the movement. By performing exercises and games through movement and communicational exercises, searching for an authentic movement, participants were changing the frameworks of conflict, problems or situations to which they would have liked to influence, changing their view upon the situation and seeking creative solutions. Meanwhile a " change of the second degree" occurred, and participants were able to see the conflict from another angle and another referential framework. The "second level" change took place due to techniques of ambandonement of the analytical thinking, in this case the movement and returning of the participants to their bodies. Listening to their own bodies, the participants became more aware of their feelings in a particular situation, it directed them to their need and to the fourth step of nonviolent communication: the creative solution and the preferred exit from the situation. In this way the participants were moved to a different framework of action and it became possible to "see" the solution. A solution of personal conflict or conflict that is prevailing for the group participants resulted from sharing the problem in small groups and searching for the solution together with a group again through exercise, games and movement.