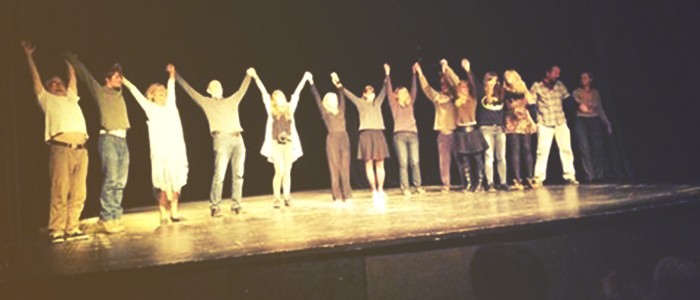 Forum theatre – "On the other side of the looking glass"
Art as therapy
Ludruga Association, in collaboration with Trešnjevka Cultural Centre is continuously organizing the art-drama workshops with Forum theater elements since 2016 to this day, and the final result is an old, but also every time a new play "On the other side of the looking glass".
Drama art workshop and its presentation in a form of a theatre is an inclusive creative tool that, through a system of theatre exercises, plays and techniques strives to upgrade the quality of life of the people with psychosocial challenges.
Short forum-scenes portray problems connected to those people and their community. It is not the "real" or "ideal" solution that the technique searches for, it rather aims to explore as much possibilities as possible. Because of that, the play is never the same. After the participants try to play with the different solutions, it is possible that they will use them in a real life when faced with same problems as on the theatre forum-scene. While setting themselves in different situations, individuals are in search for their own identity by the means of the creative integrative approach.
The play was performed on several occasions. Here are just few of them: the celebration of the World Health Day in Trešnjevka Cultural Centre, International Conference "Client in the Center", the 3rd EUCompass Forum in Luxembourg, the International multidisciplinary symposium "Bioethics and Aporia of Psyche" , Association of artists Vjekoslav Majer, the symposium "Young and Metal Health – I'm listening to you" ...
On this link you can see how the performance in Luxembourg looked like.
Association Ludruga and Trešnjevka Cultural Centre are an example of good practice when it comes to intersectoral cooperation and the promotion of art as an inclusive tool in coping with psychosocial challenges. While collaborating on the projects, we have perceived that the introduction of art as an instrument of inclusion, model for communication and a medium for discussing the important social issues for participants and the audience is the ideal model not only for the therapy of the persons with psychosocial challenges and their families, but also for the opening-up of the wider community towards them and the destigmatization of these marginalized groups.