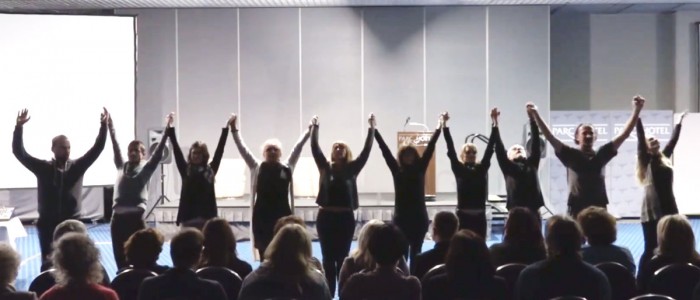 On the other side of the looking glass – Luxembourg
The III.EU Compass Forum on Mental Health was held in Luxembourg, 08.-09.02.2018. The performance of our theater play "On the Other Side of the Looking glass" closed the first day of the Forum. The performance uses Forum Theater elements and was created as a result of the five-day workshops and long-term cooperation with the Trešnjevka Cultural Center. The play was performed on multiple occasions before, but this is the first time it was recorded on video.
SCENE DESCRIPTION:
The scene is divided by a virtual mirror into so-called Normal Half (left side) and the so-called Insane Half (right side). A scenic rule of the mirror is that only a deranged person can pass through it. Thus, each of our little stories has its Normal and its Insane version. There are five stories. The stories are separated by rising of hands and breathe in.
MOCKERY
Once the constructing crew places the virtual mirror, all the members of the ensemble come out in front of the audience and stigmatize members of the audience by pointing a finger at some of you.
STIGMA AT THE RECEPTION
At the reception desk in a hospital for physical illness, a patient declares that he is coming from a psychiatric hospital. On the other side of the mirror it can be seen why people with mental disorders are stigmatized. So-called Normal People face their own suffering, as the so-called Insane individual is mocking them.
A SCENE OF RESTRAINING OF A PATIENT
A patient herself asks to be restrained. The others, in a funeral procession, go to the Insane Side, undergoing through the suffering of a personal self-trammel. Love saves us all.
TWO FRIENDS ON THE STREET
A mother of a mentally disturbed girl encounters a mother of a healthy girl who scares up of the mental disorder. On the Insane Side, the children enjoy the stigma of aggression and savagery.
A VIP PATIENT
A patient with anxiety and psychosomatic disorder refers to her connection with a politically important person, and gets stigmatized. On the Insane Side everyone fights against stigmatization. This scene continues to a shared laughter and praise of members of the audience.
The crew of workers is dismantling the mirrors, but the mirrors take flight up into the sky. The same happens with the remaining screws. The crew curses and then the final dance on the borderline of madness begin.
Theatre play "On the other side of the looking glass, creative start" Ludruga and Trešnjevka Cultural Center, Croatia

Gepostet von Trimbos-instituut am Donnerstag, 8. Februar 2018